The Nepalese village of Tang Ting twinned with Debden and Wimbish on May 12th 2007 in a ceremony at Carver Barracks attended by the Nepalese ambassador, who joined villagers in signing a twinning charter. News of the twinning was carried on the front page of the Kathmandu Post.
The English villages include a British Army base, where former Gurkha soldiers are stationed, and where Nepalese families have become part of the local community. Tang Ting is the home village of many of these former Gurkhas.
The idea for the twinning came to fruition when former Gurkha Captain, Gaubahadur Gurung approached his District Councillor, Tina Knight. He asked for her help in setting up some form of charity, to help support and aid his home village.
It was Councillor Knight's radical idea to 'twin' the Nepalese and English villages, as she felt that the twinning would have many benefits, including improving community links between the English villages, Carver Barracks and the Nepalese community in the UK, as well as raising money for Tang Ting. Out of this new relationship the Tang Ting Twinning Association was born, which over its short life has raised many lakh rupees to support Tang Ting.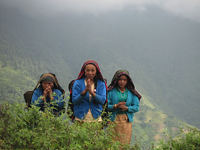 The twinning was celebrated in style in May 2007 at Carver Barracks, with the acting Nepalese Ambassador in attendance, the Gurkha band playing, school children singing and dancing and many local dignitaries in attendance, culminating in the signing of a Charter which joins these different communities in friendship, and which pledges to support the Nepalese people.
In England the charters were signed, but the ceremonies were not fully completed as spaces were reserved for signatures from the Tang Ting elders. Now, more than a year later, these spaces are about to be filled, as the committee members from the TTTA, together with members of the British Nepalese community, are making their way to Tang Ting to complete the ceremonies, formally open the Day Care centre and find out more about the village, its life and its needs.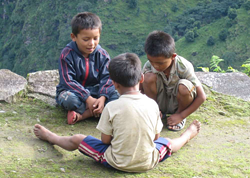 The TTTA through its fundraising efforts has helped build and staff a Day Care centre for children in the village, has provided medical care, established a welfare fund for the elderly and has recently paid the college fees for two young dalits as well as aid to rebuild the village's hydroelectricity scheme. Links are also being made with an orphanage in Pokhara, which the TTTA members will visit on their trip.
The two English schools have now won prestigious awards for the work they have done in promoting international awareness amongst their children and in helping them understand more about life in Nepal.
The Tang Ting Twinning Association aims to promote friendship and co-operation between the communities of Debden, Debden Green and Wimbish in the UK, and of Tang Ting in Nepal, to the benefit of all of our citizens.